Cube type Marker in FLAR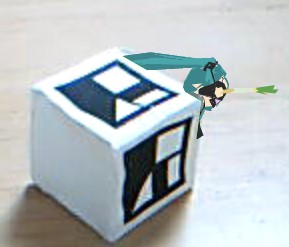 Hi.
Do you know Japanese AR product "Cyber Figure ARis" ?
This uses cube type marker.
And, I mimicked it by FLARToolKit.
I created cube marker FLAR demo.
caution:You need a webcam to play this contents.
How to use
Print this marker , and assemble cube.
Open demo.
Point your webcam at the cube marker.
Japanese famous charactor "Hachune Miku
" will appear.
Source code is here.
Cyber Figure ARis promotion video is here.