Marker"s" Generator Online Released!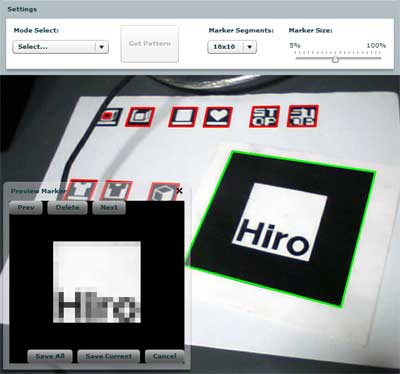 Hi.
I released new ARToolKit Marker Generator.
It makes you create original markers for ARToolKit.
When this marker detects two or more marker, you can save all markers as a zip file, or save single marker as a *.pat file.
caution:You need a webcam to play this contents.
How to use
Design your original markers and print it.
Set segments and marker size.
Point your webcam at the printed markers.
Push "Get Pattern" button when a red line encloses the markers. and go "save mode".
When "save mode" starts, Preview window appears.
Red squares show all of detected markers.
Green square shows the marker in the preview now.
Preview Window has 6 buttons.

Push "Prev/Next" button to change marker.
Push "Delete" button to exclude current previewing marker from target.
Push "Save All" button to save all pattern file "*.zip".
Push "Save Current" button to save previewing pattern file "*.pat".
Push "Cancel" button or close window to end "save mode".
To get source code.
Please SVN check out from here.
http://www.libspark.org/svn/as3/ARToolKitMarkerGeneratorMulti/